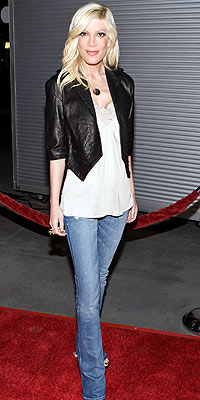 Last spring it was all about the trenchcoat as fashion guru Tim Gunn touted its virtues and told every woman that a trench was one of the 10 must haves in their wardrobe. For the 2009 spring season the trenchcoat is still holding ground but the jacket, almost any jacket, has become the essential piece and has moved from staple to accessory so you'll probably want to stock up on a couple different and trendy jackets.
The leather jacket is a fashion favorite and is still worn with glam by stars such as Tori Spelling and others. But black leather isn't the only way to make a statement, in fact this spring look for lighter colors in classic neutrals like the striking pantsuit topper worn by Penelope Cruz at the Oscar nominations. Both the leather jacket and a light spring jacket can be worn in a mix and match way with dozens of outfits giving you a stylish edge yet the comfort to take a cold spring chill.
I think the cutest look to come around in a while is the short kimono sleeve jackets that started cropping up last year. The kimono sleeve seems to be a counter reaction to the horrible balloon sleeve and skirt that didn't look good on anyone. Luckily the kimono sleeve looks great on almost anyone and helps turn a simple pair of skinny jeans and a turtleneck into a stunning winner. I really like this Kenneth Cole jacket with short kimono sleeves. This is a fashion must have in my book.
One jacket style that you probably will see a little too much of this season is the boyfriend jacket. This is not one of my favorite looks, sure it's cute when you're dressed for a special occasion and you are freezing in a sleeveless dress and your sweet boyfriend drapes his jacket over your shoulders – and why shouldn't he, he's probably wearing a long sleeved shirt after all. But when you buy yourself a long jacket and try to pair it in a mismatch way with an outfit it just smacks of trying too hard.